It is a pleasure to make available to you the facilities of our church.
The following guidelines are provided for your assistance.

For more assistance you can contact the Church office (585) 352-6802 or ogdenpresbyterian@gmail.com
---
Building Use Request Procedure:
If you would like to use OPC's facilities you can contact Ogden Presbyterian Church office.

Contributions and Fees: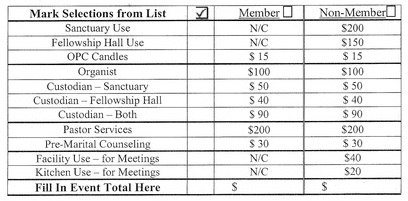 Payments and Notification:
Event date must be cleared by OPC Session and arrangements made for an OPC member to be present at event. Please make check payable to Ogden Presbyterian Church. Note that an Automatic External Defibrillator (AED) is located on the north wall of the Fellowship Hall. Church has Handicap Accessible ramp (Southeast) and Elevator (North).

Conditions and Responsibilities: