Special Worship Services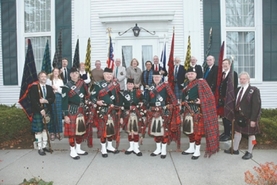 Kirkin O' the Tartan

"Kirk" is a Scottish word meaning "church," and in Scotland it usually means the Church of Scotland - the Presbyterian Church. As a church which is part of the Reformed Tradition, we hold on to the essential tenant of the faith that it is our calling in life to glorify God and serve God forever.
Thiere is a processional of the family tartan with the flags and banners led by the bagpipes and the drums of the Scottish Heritage Society of Rochester. During the service, each clan presents its tartan to be blessed, in recognition to God's service. The worship service concludes with the hymn "Amazing Grace" led by pipers, drum, and organ. The fellowship committee will host a coffee hour with authentic Scottish goodies! Yummy!
Our congregation is especially grateful to the Scottish Heritage Society of Rochester, NY, who organized and planned for this wonderful and inspired service with the energetic drums and bagpipes! Thank you! This special worship service is only held every other year, so don't miss out!
---
---
BLESSING OF THE PETS

Blessing of our pets! October 4th is recognized as the day of St. Francis of Assisi who lived over 800 years ago. Francis was born into a wealthy family and enjoyed a comfortable life, but decided to dedicate his life to God, to the service the poor, and to the celebration and care of Creation. This afternoon we gather to honor and celebrate all creatures of God's creation and the special relationships we share with them.
---
ALL SAINT'S DAY

The Worship and Music Committee planned a service for All Saints Day, to set aside and celebrate the lives of those who have departed from us and now reside with the Lord. During the service, people were invited to come forward and light a small candle as a token of thanksgiving for a life remembered. By lighting the candles from the Christ candle, we acknowledged that the eternal lives of the saints find their source in the redeeming work of Jesus.
---

Ecumenical Thanksgiving Service
On the Sunday evening before Thanksgiving, Ogden Presbyterian joins with the other churches in town to hold an ecumenical Thanksgiving service.

---