Mission
COMMITTEE'S PRIORITIES: Connect with local, national, and global communities as we seek to do God's will.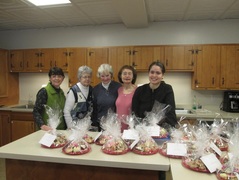 VALENTINE COOKIES
OPC members buy/make cookies to deliver to other OPC members that need a
little cheering up during this time of year.
---
---
---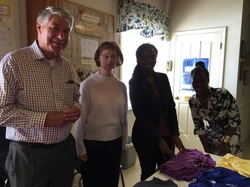 PROJECT IRENE
Irene Kamara visited OPC telling of mission work she started, working with young women, working on self-esteem and personal motivation skills and training as they begin to interview and enter the work force. She sold t-shirts as a means of raising funds for her mission work.
---
---

Stockings for Soldiers
In October and November we collect items to fill stockings to give to our servicemen and servicewomen.
---
---
---
"Souper Bowl" Sunday: A collection of canned soup that is donated by members is given to the local food shelf.

Summer Camp Donations: Donations are made to one or more summer camps, some of them for children of wounded, disabled or deceased veterans and children with special needs.

Aurora House Pig Roast: OPC members volunteer to help with the cooking and serving at the pig roast to community members. Financial support is also given.

Farm Workers: OPC collects donations of kitchen supplies, coats/jackets and blankets for farm workers in the area that can not afford them on their own. We also donate Spanish Bibles to them.

Spencerport Human Needs Fund: Throughout the year we collect loose change which is given to them by year's end.

Pop Cans: Throughout the year we collect pop cans and bottles to help offset the cost of small expenses.
---
Outreach